FOC 120E Connect Cooled Incubator
Refrigerated thermostat of 120L that guarantees excellent connectivity and high performance in temperature control with the Auto-Tuning System.
Thermoregulation and thermo stability at its best
Auto-Tuning thermoregulation system ensures optimum thermal homogeneity and stability (±0,5°C)
Eco-friendly cooling system 
Selectable incubation temperature and working range from 3 to 50 °C
Uniform temperature thanks to VELP ventilation technology
Low operating costs
Reliable and Easy to control
Total volume of 120 liters
Internal sockets to power devices
Intuitive digital interface, with three keys for easy setup of the instrument
Accepts up to 3  VELP Respirometer systems (3 BOD Sensor System 6, or 2 BOD Sensor System 10)
Constant monitoring according to GLP (Good Laboratory Practice)
Adjustable recording time (in case of connection to VELP Ermes and TempSoft™)
The optional TempSoft™ incorporates high/low alarm thresholds
Quick and easy calibration
 
Monitor your instrument anytime, anywhere with VELP Ermes
Thanks to Velp Ermes you won't need cables anymore. Find out the platform that allows you to reduce daily manual tasks and repetitive operations on your instruments with real-time control of your FOC Connect wherever you are.
 
Data Logging and Insights on the instrument are available to enhance productivity and reproducibility. 
 
Immediate notifications and alerts will allow you to be always informed about the status of your analysis and thanks to the remote interruption you will have total control of your processes ensuring maximum security.
 
Access your instrument data in total security through the VELP Ermes platform and benefit from software updates and immediate ad hoc assistance, without the need for specialized technicians.
Control your FOC Connect through TEMPSoft™ software
Through the optional TEMPSoft™ software and the related connection of the FOC Connect to the pc, you are able to:
control up to 10 FOC Connect.
set working ramps (different times and temperatures) and the desired setpoint, with the possibility of minimum and maximum temperature alarm thresholds
monitor of the internal temperature with a dedicated graph
data export in multiple formats
store test data in conformity with GLP (Good Laboratory Practice)

FOC  Connect comes with the MODBUS  communication protocol.
TECHNICAL DATA
TOTAL VOLUME:
109 liters 
ELECTRONIC THERMOREGULATION SYSTEM:
AUTO – TUNING
NUMBER OF SHELVES INCLUDED:
2
NUMBER OF SOCKETS:
2 internal electrical current sockets
INTERFACES
Wi-Fi, 2 x RS485
 
POWER:
120 W
POWER SUPPLY:
230 V / 50-60 Hz
WEIGHT:
36 kg (79.4 lb)
DIMENSIONS (WXHXD):
540x912x550 mm (21.3×35.9×21.7 in)
TEMPERATURE RANGE:
from 3.0 to 50.0 °C
INTERNAL TEMPERATURE STABILITY:
± 0.5 °C
INTERNAL TEMPERATURE HOMOGENEITY:
± 0.5 °C
DIGITAL DISPLAY:
3-digit, 0.1 °C resolution
Internal Volume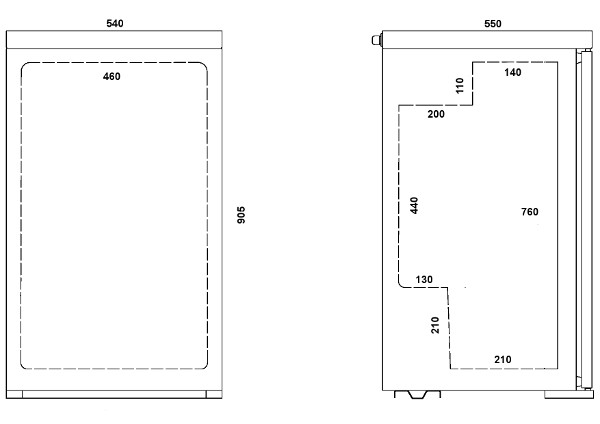 SOFTWARE REQUIREMENTS FOR TEMPSOFT
| | |
| --- | --- |
| OPERATING SYSTEM: | Windows 7 (SP 1), Windows 8 or Windows 10 |
| HARDWARE: | Core 2 Duo, RAM 4 GB |
| AVAILABLE SPACE ON THE HARD DISK:  | 100 MB |
| RECOMMENDED GRAPHIC RESOLUTION:  | 1024 x 768 |