RESPIROMETRIC Sensor System 6 – BOD
The compact, reliable, cloud-enabled solution for BOD determination and aerobic respirometric tests.
Biochemical Oxygen Determination BOD
The VELP RESPIROMETRIC Sensor BOD is designed to provide a smart and cloud-enabled solution to laboratories of water and wastewater quality control.

BOD (Biochemical Oxygen Demand) Determination is a simple and easy way for monitoring the microorganisms' activity in water samples with extremely reliable results.

In particular, microorganisms present or inoculated in a water sample containing biodegradable organic substance, consume oxygen for their metabolic activity and produce a corresponding volume of carbon dioxide.

The carbon dioxide gets absorbed by a strong alkali positioned in the neck of the bottle. The result of this process is a decrease in gas pressure. The BOD measures this change in gas pressure between the beginning to the end of the analysis and gives a result expressed in mg/l .
Easy-to-use and Powerful
The bright 4-digit LED display ensures long battery life in respect of other sensors in the market.
Intuitive 2 button interface to facilitate the analysis set up.
Pressure range: 500 ÷ 2000 mbar (hPa).
Results available in BOD (mg/l) and Pressure (mbar).
BOD Scales: 90, 250, 600, 1000, 4000, Higher values after dilution.
Automatic pressure results conversion in BOD
Unique wireless control: DataBox™ and RESPIROSOFT™ Software
The RESPIROMETRIC Sensor transmits data directly to the PC enabling real-time monitoring of the analysis curve. Respirometric studies can last days and even months, the unique VELP solution ensures constant monitoring of multiple analysis from an intuitive proprietary software, the RESPIROSoft™.
Real-time analysis curve
Most important info clearly displayed at a glance
Sensors battery monitoring
Preinstalled methods
Customized test reports
Results comparison
It is also possible, depending on your application requirement to set different sampling time intervals
The VELP DataBox™ is included in the Systems together with the RESPIROSoft™ Software and enables wireless data transmission from the RESPIROMETRIC Sensor to the PC.
The DataBox™ store results for up to 
48 RESPIROMETRIC Sensors (8 systems).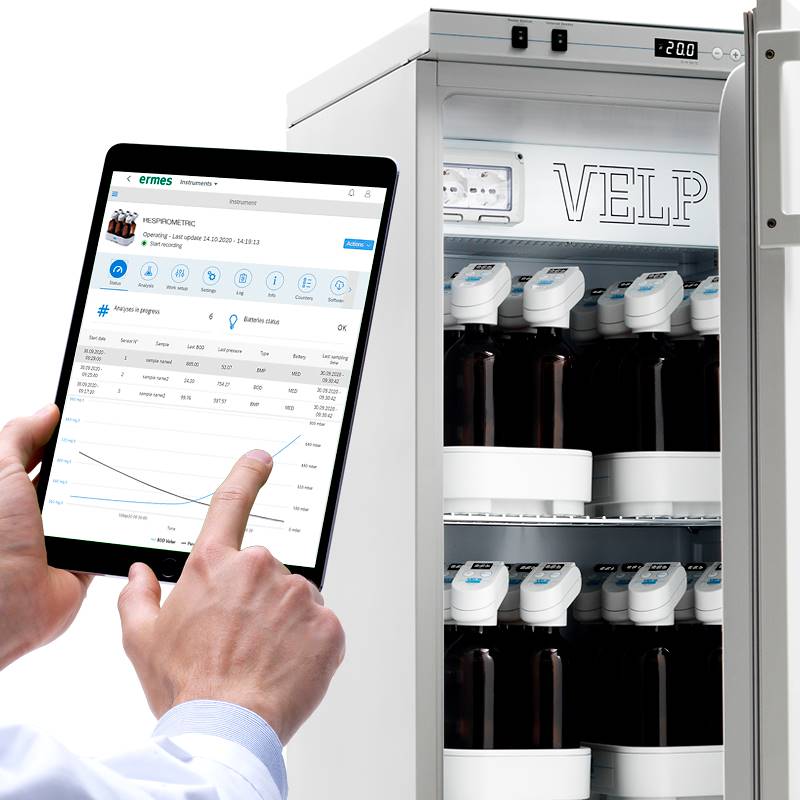 VELP Ermes connection to monitor your sensor and incubator anytime, anywhere
Connect the RESPIROMETRIC Sensor to the exclusive 
VELP Ermes Cloud Platform
 to improve your laboratory experience.
The VELP Ermes Cloud Platform connection will unburden you from tedious tasks improving your lab productivity.
Real-time visualization of your analysis with graph, even on multiple locations from PC, Tablet and Smartphone.
Real-time instrument working conditions.
Enhanced application and service support.
Access to your analysis database anytime, anywhere.
Create and share analysis report in multiple formats.
Immediate event and alert notifications based on your settings (on platform and email).
TECHNICAL DATA
NUMBER OF SENSORS PER SYSTEM:
6
SENSOR DISPLAY:
4 LED digits
MEASUREMENT:
Electronic pressure sensor
TEST TYPOLOGY:
BOD
PRESSURE RANGE:
500 ÷ 2000 mbar (hPa)
BOD SCALES:
90, 250, 600, 999, 4000 ppm, higher values after dilution
BOTTLE VOLUMES:
500 ml 
DATABOX SENSOR CAPACITY:
Up to 48 REPIROMETRIC Sensor
DATABOX POWER SUPPLY:
USB / Plug 
CONNECTIVITY:
Ermes via Wi-Fi / RESPIROSoft™ via USB
SAMPLING TIME:
From 2h to 48h, depending on test duration
MEASURING PERIOD: 
From 5  to 30 days
DATA STORAGE:
On sensor, RESPIROSoft™ Database, Ermes Cloud
SENSOR CONSTRUCTION MATERIAL:
Technopolymer
SENSOR DIMENSIONS (WXHXD):
50x70x70 mm
SENSOR POWER:
2 W
SENSOR BATTERY TYPE:
CR 2430
STIRRING STATION POWER SUPPLY:
230V / 50-60Hz or 115V / 60Hz
STIRRING STATION DIMENSIONS (WXHXD):
270x300x185mm
WEIGHT:
Sensor: 80g
Stirring Station: 1Kg
SAFETY CLASS:
IEC/EN61010-1
PROTECTION DEGREE:
IP 54-EN 60529
SOFTWARE REQUIREMENTS FOR RESPIROSOFT
| | |
| --- | --- |
| OPERATING SYSTEM: | Windows 7 (SP 1), Windows 8 or Windows 10 |
| HARDWARE: | Core 2 Duo, RAM 4 GB |
| AVAILABLE SPACE ON THE HARD DISK:  | 100 MB |
| RECOMMENDED GRAPHIC RESOLUTION:  | 1024 x 768 |