Premium Temperature Homogeneity
The exclusive CerAlTop™, made of aluminum alloy covered with ceramic, ensures an outstanding temperature homogeneity and optimum heat transfer across the entire surface, of up to 370 °C.

The special protective white ceramic coating that ensures ease of cleaning and excellent resistance to chemicals, scratches and surface abrasions.

For higher performance, AREX hot plate stirrer can be connected to the VTF Digital Thermoregulator.

VTF ensures perfect and precise thermoregulation up to 300 °C, with premium accuracy of ± 0.5 °C.

VTF is equipped with a timer, for unsupervised operation and increased productivity.
Maximum Protection Against Leakages - IP 42
The hot plate stirrer AREX ensures a high level of safety and protection for the user.

The elevated control panel is easily accessible, is positioned at a safe distance from sources of heat and is protected against possible damage caused by liquid spills thanks to a dedicated run-off groove.

The pressure die-cast structure is designed so that accidental liquid spills cannot reach the internal parts of the hot plate stirrer.
Low Profile, Eye-Catching Design
The hot plate stirrer AREX offers an innovative low profile and attractive design for great comfort.

Also, the inclination of the front panel has been carefully studied to facilitate use.

The control panel is extremely intuitive.

By turning the left knob of the hot plate stirrer it is possible to adjust the temperature (up to 370 °C), whilst the right one controls the stirring speed (up to 1500 rpm).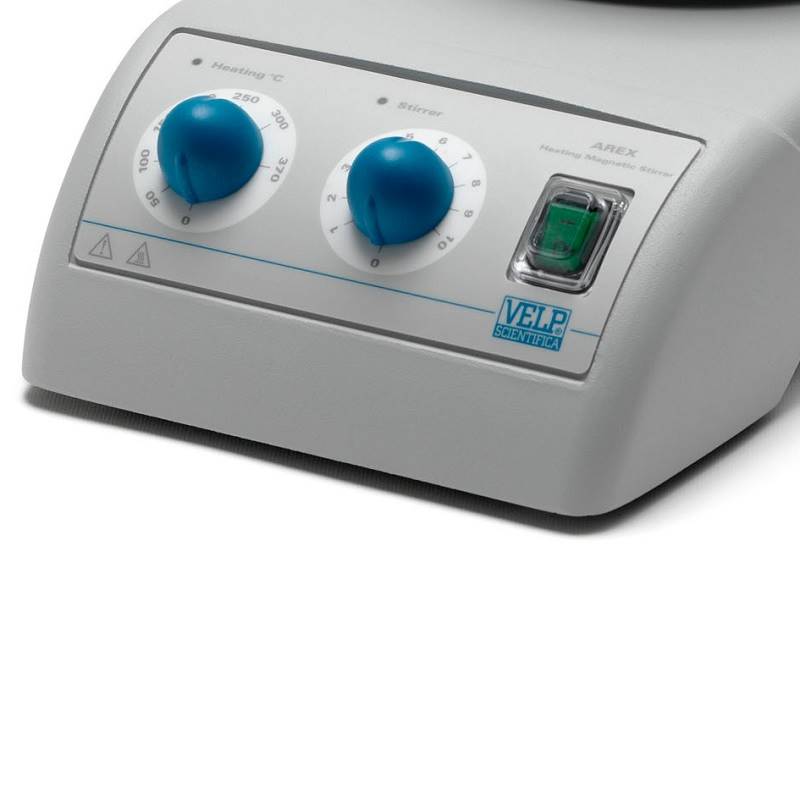 Clean and safe round bottom flasks to replace oil baths and mantles
The Hemispheric Bowl are the most suitable solution to replace oil baths and mantles in order to perform clean and safe analysis with round bottom flasks.
VELP Hemispheric Bowl precisely fit the 135 mm diameter plate and the flask surface, ensuring the fastest heat transfer.
Increase the productivity with MonoAluBlock™ and MultiAluBlock™
The new MonoAluBlock™and MultiAluBlock™ permits to perform numerous reactions, reducing time and bench space also achieving the highest stirring and heating performances.
MonoAluBlock™ are the ideal solution for all the application that require to stir multiple vials of the same dimensions
MultiAluBlock™  consist of small combinable segments in order to accommodate different sizes of vials at the same time. The user can select the most suitable mix for his application
TECHNICAL DATA
| | |
| --- | --- |
| CONSTRUCTION MATERIAL: | epoxy painted aluminum structure |
| HEATING PLATE: | aluminum alloy coated with ceramic coating |
| HEATING PLATE DIAMETER: | 135 mm |
| VERTEX CONNECTION: | provided |
| PROTECTION RATING CEI EN 60529: | IP 42 |
| POWER: | 630 W |
| WEIGHT: | 2.6 Kg (5.7 lb) |
| DIMENSIONS (WXHXD): | 165x115x280 mm (6.5×4.5×11 in) |
| ELECTRONIC SPEED REGULATION: | up to 1500 rpm |
| ELECTRONIC TEMPERATURE REGULATION: | from room temp. to 370°C |
| SAMPLE THERMOREGULATION: | ± 0.5 °C by using the Vertex thermoregulator |
| STIRRING VOLUME (H2O): | up to 20 liters |
| STIRRING SYSTEM: | high-power driving magnet type "PCM" operated by a mono-phase motor for continuous operation |
| COUNTER-REACTION: | constant speed |